League + ICMA Potential Made Possible Conference Scholarship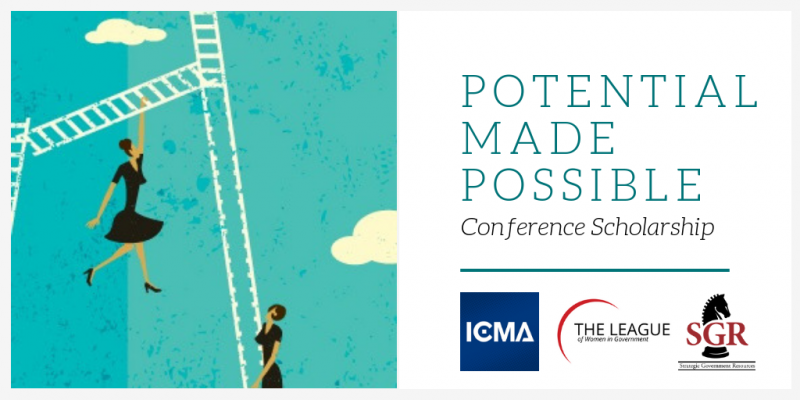 Part of the League's mission is to increase the number of women in the most senior level positions  by providing women executives—and those who seek to become them—the content, tools, and opportunities that can help serve their specific needs. To that end, the League of Women in Government, Strategic Government Resources and ICMA are collaborating on a special scholarship for women in financial need for the ICMA Annual Conference that they might not otherwise be able to attend without our help.
The 2019 Potential Made Possible Scholarship includes complimentary conference registration as well as a travel stipend of up to $1000* to cover some of the lodging and transportation expenses related to attendance at the for the League + ICMA "Don't Just Talk About It, BE About It" Symposium on October 19, 2019 and the ICMA Annual Conference that will be held October 20-23, 2019 in Nashville, Tennessee.
To be eligible for the special Potential Made Possible Conference Scholarship, an applicant must:
Be a female member of ICMA at time of application.
Be a first-time ICMA Annual Conference attendee (this requirement is not applicable to persons who attended a past conference as a student member or a fellow).
Be a full-time local government employee (part-time interns or employees are not eligible).
Submit a completed application (see below).
Demonstrate, through an essay, an avid interest in a career in local government management.
Selected Winners will be required to:
Commit to attend the 2019 League of Women Symposium and ICMA Annual Conference in Nashville, TN
Post 3-4 social media posts during the event about their experience using the @ICMAevents, @WomenLeadingGov, @SheLeadsGov Conference hashtags Twitter handle in their posts (@Cal_ICMA)
Write a brief blog post for the League of Women in Government Newsletter regarding their experience at the event (due in mid November 2019)
The application period for the scholarship is now closed. Winners will be announced the week of August 18, 2019.
_________________________
* The travel stipend will be provided on a reimbursable basis upon submittal of receipts for actual expenses paid.