Donate or Sponsor and Make a Difference
The League of Women in Government (LWG) serves as the umbrella organization to support local and statewide organizations that advance women in local government leadership. Your donation or sponsorship directly helps us fulfill that mission.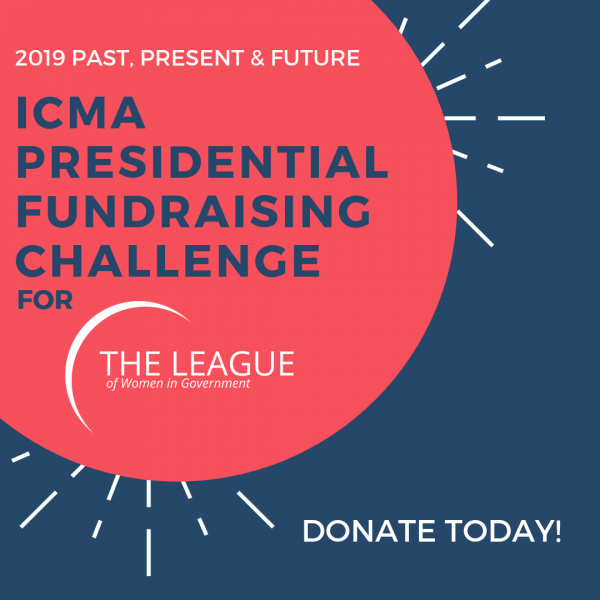 We need YOUR help!
The Situation:
Over 50 percent of employees in local and state government are women, yet less than 20 percent are represented at the most senior executive level of local government. Although we don't know all of the reasons why women are underrepresented, we do know education, training and development are the keys to increasing diversity of all kinds in organizations. Further, we know from research that gender balanced and inclusive organizations are more financially sound, innovative and successful.
The Challenge:
We've been challenged by iCMA Past President, Bonnie Svrcek (City Manager, Lynchburg, VA) to help raise $10,000 for the League of Women in Government in the next 60 days. To that end, we are asking YOU to join US in our support of the League of Women in Government by making a donation to the League's 2019 Annual Fundraising Campaign. The League is counting on our support and we hope you will join us in making a donation to the League today.
YOUR Donation:
The League has been working hard to provide training and development opportunities to women in local government, especially in areas where no organized women's group or committee exists. In addition to the 4th Annual League of Women in Government/ICMA University Symposium this year in Nashville, the League is sponsoring and partnering with other organizations to support its mission to advance women in local government. And because the League does not charge a membership fee or pay any salaries, it relies on sponsorships and donations from individuals like US to make these opportunities happen across the country.
To double YOUR donation's impact, we will be matching the first $2500 in individual donations! That's how much we believe in the work the League is doing.
Thank you in advance for your consideration of making a much needed donation to the League of Women in Government. To donate today and pushing us one step closer to winning this challenge, click on the "DONATE" button at the top of this page.
Thank you in advance for your consideration to help us win this challenge!
Sincerely Your ICMA Past, Present & Future Presidential Team,
Jane Brautigam, 2020 Incoming President
Wally Bobkiewicz, ICMA Midwest Regional Vice President
Lee Feldman, 2017 Past President
Sam Gaston, 2011 Past President
David Johnstone. 2018 Past President
David Limardi, 2008 Past President
J. Thomas Lundy, 2004 Past President
Pat Martel, 2015 Past President
Peggy Merris, 2002 Past President
James Malloy, 2021 President-Elect
Bonnie Svrcek, 2012 Past President
PS – Since the League is a 501(c)(3) not-for-profit organization, your donation is tax deductible!
Why The League Doesn't Charge a Flat Membership Fee
The League began with a simple mission — find ways to help women advance in local government. What the group learned along the way is people have varying degrees of ability to pay to belong to a professional organization/association. So the League is officially a pay what you can organizaton. If your situation doesn't allow you to contribute financially, that's cool. Become a member and stay a member. You can pay it forward in another way. Share your ideas, tell us about learning opportunities in your area, write an article for our blog post, help us tweet information, mentor an up and comer, and so on. We need your brain power to grow our network which helps everyone!
If you have the financial means to pay it forward to others who can't, the League appreciates any and all donations. Every little bit helps. In fact, we rely on the generosity of people like YOU for support. Without it, we wouldn't be able to meet our goals or achieve our mission. Just click the DONATE button below and follow the prompts. Oh, and because the League is a volunteer based organization, has no employees and pays no salaries, 100 percent of your contribution goes towards professional development/training, networking opportunities, website content and events with our partner organizations.
The League is a 501(c)3 so your contribution is tax deductible. Other questions about donations? Email the League at INFO@LeagueOfWomenInGovernment.org.
____________________