LEAGUE NOW ACCEPTING NOMINATIONS FOR 2019 LEADERSHIP TRAILBLAZER AWARD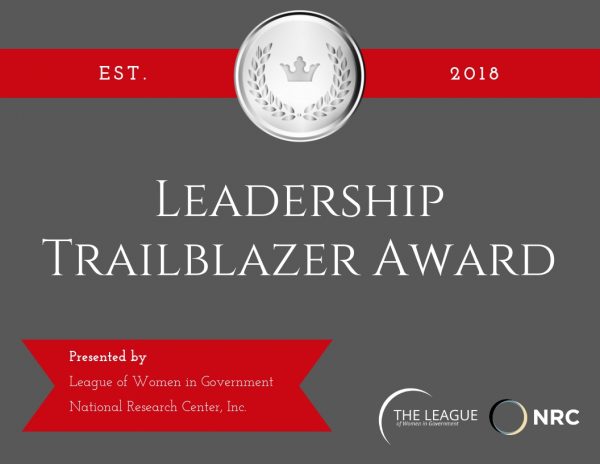 The League of Women in Government (LWG) and National Research Center, Inc. (NRC) are proud to announce the 2nd Annual Leadership Trailblazer Award. This award recognizes an accomplished leader in the local government profession who has championed and inspired other women to achieve as well.
Nominations for this award are submitted by local government professionals who would like to see a dedicated colleague recognized on a national scale. A panel of judges from the League and NRC will review each nomination and select the final winner. The winner will be inducted into the League of Women in Government Hall of Fame alongside Opal Mauldin-Jones, City Manager, Lancaster, TX who was last year's winner.
"To win this award means that you've not only had a big impact on the community you've served, but also on your organization, and other women whom you've mentored and helped succeed," said award judge and NRC survey researcher Damema Mann. "Women still make up less than 20 percent of executive level local government staff. It's important to salute the accomplishments they have made, and their work in blazing the trail for future female leaders."
If you know someone you think should be recognized, CLICK HERE TO MAKE A NOMINATION.  Nominations due by 5:00 PT/ 6:00 MT / 8:00 ET on August 22, 2019.
The 2019 Leadership Trailblazer Award will be presented at the 4th Annual League of Women in Government Symposium (in conjunction with the International City/County Management Association (ICMA) Conference) at the Nashville Convention Center in Nashville, TN on Saturday, October 19th.