LWG Interview with Tammy Letourneau, Costa Mesa ACM & Founding Member of WLG-CA and the League of Women in Government
By LWG Editor
Recently, we talked with Tammy Letourneau, Costa Mesa Assistant City Manager & Founding Member of WLG-CA and the League of Women in Government. Tammy talked about being an ACM, a City Manager, and an ACM again, why women's groups are needed, and why even in the digital age, great writing skills are still important in local government. Here is the interview:
What inspired you to launch Women Leading Government in California back in 2006?
Back in 2006, I was a city manager at the time and there were a few female city managers in the same county then. We all got on a conference call one day and started talking about the different things that we have experienced in our local government careers that are different from out male colleagues.  I was fortunate and blessed to be selected as the first female city manager in the two communities where I served in that position.
During that conference call we decided that it would be great to have a place where we could educate and mentor other women in local government and where we could support one another. We really wondered at the time if anyone would be interested so we decided to find out.  We put out an email to find out if anyone was interested and I remember that we received about 175 responses in about 48 hours from women in local government who really wanted a group like this. I am so proud of WLG and all the help, educate and support that this organization has provided to women in local government.
We were a small and mighty group of six very busy women, but we accomplished a great deal in those early years and it is very rewarding to see what this organization has become and how much it has grown.
While I personally know the answer to this question, can you share with our readers why after the success of WLG-CA, you went on to become a co-founder of the national group, the League of Women in Government in 2015. Why a national group?
I had the privilege of co-chairing the Task Force on Women in the Profession with Assistant City Administrator Pam Antil. One of the recommendations in the Task Force report was to create a nationwide organization that would serve as the umbrella organization and mentoring organization for the other local government women's groups.  Another important mission is to help other states start local government women's organizations who did not already have them.  Along with Pam Antil and Bonnie Severck we founded the League of Women in Government.  I am so proud of the work we have done on a national level helping, educating and supporting women in local government.
You've served as both an ACM, CM and now an ACM again. What do you like about each position and do you see yourself vying for a CM position again in the future?
I love both the City Manager role and Assistant City Manager role. It has been a privilege to serve all six communities that I have worked for in all capacities that I have served.  Being a city manager is a wonderful job.  I love working with the city council and community to make the community an even better place to live, work and play. The other thing I love about the job is being the leader of the organization providing the vision and tools to the organization so the staff can do their very best work.  Being the Assistant City Manager is great.  I get to work on great projects, such as being the Project Manager for our new Library, new one acre park and renovated community center project.  I have been working on this project for 4 years and the first phase is under construction now and will open next Spring.  It is a privilege to work on such an important project.  I do see myself being a city manager again when the time is right.  I love my job in Costa Mesa and I am happy and I am going the work that I love.
What are some critical skills that you think are essential to transitioning from an ACM/DCM position to being in the top spot?
Great leaders are people of integrity who are humble and who inspire others around them to be their best. You also need to know love working directly with elected officials and have had experience doing so.  There is an art to having multiple bosses and balancing the needs and desires of those who have been elected by the community to carry out the work of the people.  You need to be able to take the direction and vision of the city council and lead the organization to achieve those goals.  This means knowing how to put people in the right places to use their skills to achieve the best results.  Throughout your local government career there is a critical skill that everyone needs at every level and that is writing skills.  Being a great writer and knowing how to write a staff report especially is essential to successful local government careers.
You are passionate about writing skills evidenced by writing a book about it! What prompted the book?  And side note, with two school age kids, where do you find the time?
Yes, I am passionate about writing. I have been in this business for almost 30 years now.  The skill that all of us in this business need is to know how to write a staff report.  However, schools do not teach this and new employees only learn through trial and error.  I have been teaching local government at two universities in Southern California for 17 years.  I have my students write a staff report as their class project because I want to teach them this important skill.  I have also taught many new employees how to do this.  I hear supervisors and managers complain about staff not being able to writing staff reports and they have to spend hours rewriting them.  All these years I have been frustrated that there was not a resource for staffing report writing.  Thus, I decided last year to write the book myself, Mastering the Art: A-Step-by-Step Guide to Writing a Quality Staff Report.
It was intentional that I titled this book "mastering the art" because that is what it is – it is an art!  My hope is that this is a guide that sits on the desk of every local government professional as a resource guide. This is the first book that I have written and I self-published. I spent 11 months writing and publishing this book.  Yes, I am married, I have two young children, a wonderful and busy day job and I teach.  I spent a lot of late nights staying up writing this book.  It is something that I am very passionate about and the process was fun!
What's your advice to women who seek the top CAO spots in local government?
My advice to women who desire to sit in the CM seat one day is to believe in their skills and abilities and know that they can do it. We have a tendency to hold ourselves back.  We need to have confidence in our skills without being cocky.  We can have families and be city managers too!  My other pieces of advice is to enjoy your job, no matter what your assignment and what level you are at in the organization.  We are lucky to serve the communities we work in and we should approach everyday with a sense of gratitude for being given the honor to serve.
Congratulations on your book Tammy! We can't wait to read it.  Thank you very much!
To purchase a copy of Tammy's book for $20 instead of $35 on Amazon using the League of Women in Government discount, CLICK HERE.
____________________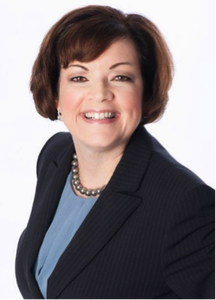 Tamara "Tammy" Letourneau is the Assistant City Manager of the City of Costa Mesa. She has over 29 years of extensive local government experience in six communities, including serving as a City Manager in Yorba Linda and Sierra Madre, California. She also served the cities of Claremont, Arcadia, and Monrovia, California in a variety of positions with increasing responsibilities. She has a range of experience in organizational development, team building, and strategic planning. Her functional expertise includes operating and capital budgeting, human resources/risk management, labor relations, and intergovernmental relations. Most recently, she was a Senior Manager with the Management Partners consulting firm prior to joining the City of Costa Mesa in early 2014.
Tammy is an adjunct professor at California State Polytechnic University Pomona and the University of La Verne, and has been a speaker at numerous workshops and conferences about local government issues. She is also the Co-Chair of the California Consortium of the International City/County Management Association (Cal-ICMA) Ethics Committee. Tammy is a founding member and current board member of Women Leading Government and the League of Women in Government. In 1999,Tammyreceived the J. Michael Dutton Award from the Municipal Management Assistants of Southern California for her contribution to local government. She is the author of the article "The First 100 Days – A Checklist for the First 100 Days as a New City Manager," which appeared in the May 2006 issue of Public Management magazine. She is also a contributor to the book Democracy at the Doorstep, Too! by Mike Conduff and Melissa Byrne Vossmer. Tammy graduated from California State Polytechnic University at Pomona with a bachelor's degree in business administration and a minor in public administration. She also holds a master's degree in public administration from California State University Long Beach.