Guest Writer Karen Daly on Reaching the Gender Balance Plateau in 2017: We have more work to do!
By Karen Daly, ICMA Mountain Plains Regional Director
First, you have to know that I fan-girl of Sheryl Sandberg. Next, you should know that she continues to support amazing work on gender balance in the workforce. LeanIn.org conducts a "Women in the Workplace" study on an annual basis. The 2017 report had some interesting conclusions that are good food for thought. If you are reading this, I know you are a smart cookie and can pull up the report in its entirety but here's some of my areas of note.
2017 marked a plateau in the quest for achievement of gender balance. The report's findings show that "Nearly 50 percent of men think women are well represented in leadership in companies where only one in ten senior leaders is a woman. A much smaller but still significant number of women agree: a third think women are well represented when they see one in ten in leadership at their company. It is hard to imagine a groundswell of change when many employees don't see anything wrong with the status quo."[i]  Yep, you read that right.  If 10% of the senior leaders are female, most folks are slapping each other on the back for a job well done.
The report also highlighted the disparities between white women and women of color. Those who heard the keynote speaker at the League of Women in Government + ICMA University Symposium this year, received a sneak peek at this issue. The report says, "…companies more often prioritize gender diversity than racial diversity—when in fact, gender and race are inseparable and need to be prioritized equally. When companies treat them as different issues, their policies and programs can fall short. They do not account for the complex and varied experiences of women, and women of color in particular are often left out. Women of color experience overlapping challenges because gender and race intersect in ways large and small."[ii]  It is important to look at gender balance as well as racial balance when having an equity goal in an organization. How often is this analyzed in your organization?
The last key point I would like to share from the study is the discussion on professional networks. "Significant gender differences emerge in women's and men's experiences. Women receive less advice on how to advance, and they have less frequent interactions with managers and senior leaders, yet both are linked to greater ambition. Further, women and men have markedly different professional networks, and the right network can accelerate a career. Women are more than five times more likely to rely on a network that is mostly female. Because men typically hold more senior-level positions, this means women are less likely to get access to people who can open doors for them."[iii]  It just begs the question, "Who's in your network?"
_________________________________
You can find the 2017 McKinsey Report on Women in the Workplace Study and other resources HERE.
[i] Women in the Workplace 2017 Report, p.7
[ii] Women in the Workplace 2017 Report, p.13
[iii] Women in the Workplace 2017 Report, p.7
_________________________________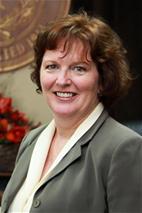 Karen Daly is a former city manager and Mountain Plains Regional Director for ICMA. She can be reached via email at kdaly@icma.org.