League Announces 5 New Scholarship Opportunities from Partner SGR! Apply by September 11th….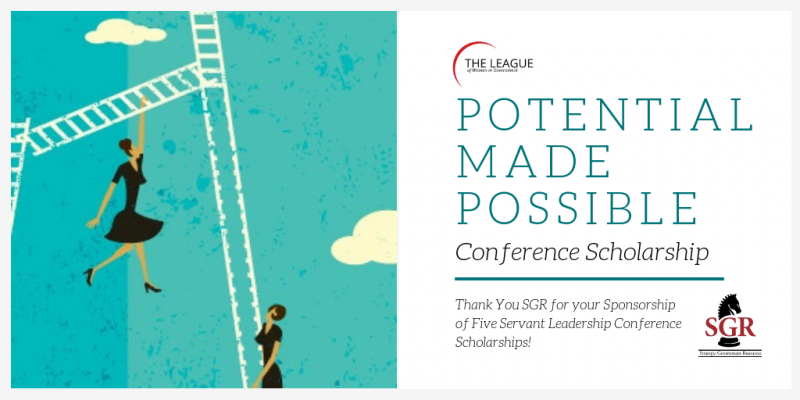 Part of the League's mission is to increase the number of women in the most senior level positions  by providing women executives—and those who seek to become them—the content, tools, and opportunities that can help serve their specific needs. To that end, the League of Women in Government and Strategic Government Resources are collaborating on a special scholarship for women in financial need for the 2019 Servant Leadership Conference to be held in Sherwood, OR from September 19-20, that they might not otherwise be able to attend without our help.
The SGR Servant Leadership Conference focuses on:
Servant Leadership;
Employee development; and
Innovation, training, and recruitment that assist local governments in developing strategies for organizational success.
To see the full agenda, CLICK HERE.
Join us in learning from high-performing, innovative, and progressive organizations that have revolutionized the recruitment and development processes and are recognized for their culture and values.
To be eligible for the special Potential Made Possible Conference Scholarship, an applicant must:
Be a female member of the League of Women in Government at time of application.
Be a full-time local government employee (part-time interns or employees are not eligible).
Submit a completed application (see below).
Demonstrate, through a short essay, an avid interest in a career in local government management.
Selected Winners will be required to:
Commit to attend the 2019 Servant Leadership Conference in Sherwood, OR.
Post 3-4 social media posts during the event about their experience using the @StrategicGovt @WomenLeadingGov, @SheLeadsGov and any conference hashtags in their Twitter, Facebook and/or Instagram posts.
Write a brief blog post for the League of Women in Government Newsletter regarding their experience at the event (due in mid October 2019).