LWG Interview with Matthew Hart, West Hartford Town Manager & ICMA Vice President for the Northeast Region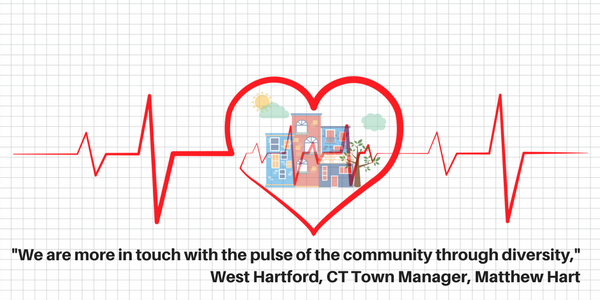 By LWG Editor
Recently, League of Women in Government President, Pamela Antil, ICMA-CM, talked with Matthew "Matt" Hart, Town Manager, West Hartford, Connecticut and newly elected ICMA Northeast Regional Vice President. Pam and Matt talked and shared thoughts on how we might increase the number of women in senior executive positions in local government and how Matt plans to help advance this mission during his tenure as a regional vice president for ICMA. Here is the interview:
Pam: Where are you from Matt and how did you begin your career in local government?
Matt: I'm from Connecticut and fell into the business by accident. I went to Tulane University as a freshman, but needed to return home after only one year because of family and financial issues. After that first year, I worked in a variety of trades jobs and ultimately enlisted in the Army in the late 1980's to take advantage of the army college fund. I ended up stationed in upstate New York and completed my undergraduate degree at SUNY Potsdam. After Potsdam, I wanted to pursue my graduate education. I pursued a dual degree – JD and MPA – at The University of Connecticut (UConn). I didn't know anything about municipal government, but in my second year in graduate school I got a tip from a friend that the Town of Windsor, Connecticut was looking for an intern and applied. I got the internship and that began my local government career. I fell in love with local government as a result of that internship.
Pam: Congratulations on being elected as the ICMA Northeast Regional Vice President! What do you hope to achieve during your tenure as ICMA Vice President?
Matt: Thank you! I am excited to begin my term representing the northeast. The northeast region is a little underrepresented, as there are fewer of us than in other parts of the country. I'm trying to promote ICMA in the region especially with non-traditional folks coming into the field – former military, not-for-profit executives, and even some former elected officials. Understanding the Council/Manager form of government and our code of ethics is important. I'm trying to connect with these non-traditional managers to introduce them to ICMA.
I'd also really like to get a student chapter formed at UConn through their MPA program, which focuses primarily on non-profit work vs. local government. I want to be able to show students that there is a place for them in local government. Another area that I am particularly interested in is the work I have been doing with the ICMA sustainability committee. I really want to continue championing this work while on the ICMA Board.
Finally, and most importantly, is the work that I want to do to support the work of the League and the other women's groups regarding gender balance. I want to work to make sure that women are supported and encouraged to go forward to pursue open positions throughout the country. And I want to help in any way that I can to help eradicate gender bias in local government.
Pam: Why do you think there aren't more women in the top CEO spots in U.S. local governments?
Matt: I think there are a variety of reasons. I've looked at some of the data produced by ICMA and the League and unfortunately, I believe part of the reason is that in many cases, women still bare the brunt of the family responsibilities. This is an issue in every two-income family and I believe for a lot of people, it's still the case that women are doing the lion's share of household and kid duties – drop off and pick up from school, etc. Even in case where men are sharing that load, I have also observed that women may not have the flexibility to pick up and relocate a family if offered a great position. This may be because men's incomes are still higher than women's or other factors, but it remains an issue for women moving forward.
That being said, I also think local government, as a field is not as family friendly as it could be in comparison to the private sector. For example, in Connecticut the vast majority of our public meetings are during the evening. When I think about the timing of these, this can be a barrier if you have the primary responsibility for children. There are also still some biases that elected officials hold when they are gauging the readiness of a candidate. These are just a few things that I see as impediments that need to be addressed. Truth be told, all of us are tired of night meetings, but this may affect women more than men in cases where they don't have support at home or at work to cover family issues after traditional work hours.
Pam: What do you think needs to change to advance women in local government?
Matt: As we were discussing, if the workplace were more family-friendly that would be a step in the right direction. But even more important is for elected local government leaders, chief executives and department heads to realize that it is incumbent upon us to help drive the change. We need to mentor people with talent, regardless of gender. But, with women in particular, it is important to actively recruit them and support the realities of the workplace and what needs to change to support their enormous contributions to local government. State of the art policies don't cut it if you're not intentional about what it takes to hire women and what needs to happen to support women and families once they are in those top positions. This is an important key to success. Policies alone won't cut it.
Pam: Tell m about a woman who made a positive impact in your local government career and why.
Matt: A former mayor of mine in Mansfield had a tremendous impact on my career. Mayor Betsy Paterson was just great because she was so supportive and kept the Council members in their "lane." I was always impressed with the way she conducted herself and how supportive she was of staff and me in particular. This is why I was saying earlier that support and encouragement can make a difference in someone's career – I just think this support happens more for men than women in local government.
Pam: How do you think a diverse leadership team impacts a community?
Matt: I believe it's important in terms of enabling the community to better identify with the local government organization as a whole. It helps in terms of lending a voice to the minority. To the extent that we can work to achieve diversity in our workforce, it is helpful to connect us with everyone in the community to, ultimately, make better decisions. We are more in touch with the pulse of the community through diversity.
Pam: What do you think we can do as public administrators to eliminate biases against women and people of color in local government?
Matt: Setting ourselves as an example is very important. We need to start with our own organizations. Take a risk or two. Invest in professional development. Let's be active and get things going in our own organizations. Form young professionals groups. Pam, as an example, you and I can collaborate to form a women's group in the northeast region. Working together we will achieve more to make advances in diversity within local government. Training is important both for young practitioners and to eliminate bias. Every level of employee in local government can learn something new and learn to work together better. By getting people to work together and out of their "silos" helps people to work better together overall. We need more of that!
_______________________
Matthew Hart became the Town Manager for the Town of West Hartford, CT on July 31, 2017, after serving as the Town Manager for the Town of Mansfield, CT since October 2006. Matthew has been an ICMA member since 1997, and has been an ICMA Credentialed Manager since 2007. He served on ICMA's Conference Evaluation Committee from 2004-05, the Conference Planning Committee from 2005-06, the Governmental Affairs and Policy Committee from 2009-13, and has served on the Sustainable Communities Advisory Committee since 2007. Matthew completed the Senior Executive Institute (SEI) in 2015 and ICMA's Gettysburg Institute in 2011. He served on the board of the Connecticut Town and City Management Association from 2001-08, serving as President from 2006-07.
Pamela "Pam" W. Antil has over 25 years of experience directly managing and advising local government agencies across the country including small and large cities such as San Jose, CA, Ann Arbor, MI and Palo Alto, CA.  Currently, she is the Assistant City Administrator for the City of Santa Barbara, CA.
Ms. Antil has been recognized for her published articles and papers on a variety of topics including advancing women in local government; the future of policing in the United States; business networking; innovation and design thinking; post-merger/operational due diligence in the private sector; and use of social media by local government.  An avid networker herself and early adopter of social media in government, Ms. Antil founded the Municipal Managers group on LinkedIn in 2007, which has over 12,000 members today and the League of Women in Government in 2015, supporting the advancement of women in local government.
Pam is an active member of the International City/County Management Association, Cal-ICMA, Alliance for Innovation, Municipal Management Assistants of Northern & Southern California, BJA Executive Session on Police Leadership, Emerging Local Government Leaders as well as serves as a Board Member for Women Leading Government CA and President of the League of Women in Government. Pam has a Bachelor's degree from Central Michigan University and a Master of Public Administration degree from California State University. She is the mother of two children, Sydney and Peyton, and she resides in Santa Barbara, California.