To find the right fit, ask yourself these questions…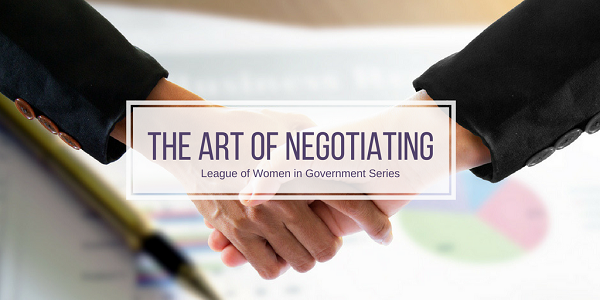 To help women better position themselves for negotiating — whether for salary purposes or to get better assignments — the League is doing a series of articles with tips and techniques to help local government women improve their skills by learning from other women in the field. This article is the fourth in our continuing series.
********************
By Pamela Antil, ACA – City of Santa Barbara, CA & President, League of Women in Government
It's not uncommon for women and men to focus primarily on salary when they enter new employment negotiations. Unfortunately, this leaves a lot on the negotiating table – especially for women who can underestimate other valuable negotiated items such as training and development; time off; and assignments. By doing this, many women overlook the broader point of employment – job satisfaction. It's true that we all need to pay our bills, but ignoring some key aspects about the job "fit" for yourself can lead to greater career dissatisfaction in the long run.
Job satisfaction, as measured by the Gallup organization in 142 countries worldwide and surveys of over 230,000 people, reports that employee satisfaction overall and is on the rise. However, "engaged employees" — a smaller subset of those who may be satisfied with their job — are involved in and enthusiastic about their work and workplace. According to Gallup, these employees are more likely to show up to work, are less likely to leave the organization, treat customers better and are more productive. In the private sector, Gallup finds that business units with an above-average number of highly engaged employees average 21% higher profitability than business units with few engaged employees. How does this translate in the public sector? According to Gallup, better financials.
Future articles in this series will focus on the financial side of new job negotiations. Another important point to consider, however, is upon receiving a job offer, answering the question, "What is the value of the new position to me?"
John Lees, career strategist and author of The Success Code writes that there are several other areas to consider, beyond salary, to help you determine if the job is really right for you:
Job Content
Lees suggests that you need to know the "kinds of activities you want to be involved in and the skills you want to use" as a professional by asking yourself questions like:
Do I want to lead a big team, supervise only a few others, or have zero management duties?
Do I want to be in a public facing position or do I crave autonomy?
What kinds of projects do I want to be engaged in?
What kinds of professional tasks do I want no part of?
It is only after asking these questions, can we see how well the offer matches up against the responsibilities you're being asked to take on.
Cultural Fit
Many people fail to do their due diligence on the organizational culture of a new employer. This is obviously critical to long-term job satisfaction. Questions to ask yourself include:
Is this a place where I will be happy? Will my commute to and from work be a burden that affects my overall satisfaction?
Where will I be challenged or on the flip side, bored with the position?
How do people advance in the organization? Are there many opportunities over time or do people tend to stay in positions for many years?
Do others already working at the organization appear to be satisfied? Can I speak with someone to learn more about the culture?
Flexibility, Time Off and other Benefits
Many times people become so focused on the salary of the position, they miss other benefits that may be more important in the long run. Some question to consider include:
Are flexible hours important or essential for me to be successful in the position? Is it possible to negotiate work hours at the organization?
Am I able to negotiate more time off in lieu of salary dollars?
Does the organization offer enhanced retirement or other financial incentives?
Will I have to pay for parking at the new organization? Do I have other commute options if parking is not guaranteed?
May I opt out of health benefits for additional salary dollars?
Will the organization provide training and development opportunities to me?
As Lees further writes, if nothing more, these questions are useful in helping you realize that you have options.
Finally, Jeff Weiss, president of Lesley University and author of the HBR Guide to Negotiating offers these additional insights when negotiating:
Do:
Think about what you want out of your job and use that as a framework to determine the elements of the offer you would like to alter
Be selective about what you push back on
Employ classic negotiation techniques by maximizing the cost of the things you are prepared to accept and minimizing the things you seek.
Don't:
 Be critical or suspicious when questioning something about the offer.
Neglect to consider your walk away alternatives.
Ignore red flags. If your instincts and due diligence tells you that you should not take the job, listen.
********************
Today's Negotiating Tips From
Susan Thorpe, County Administrator – Yuma County, AZ
What techniques do you use when negotiating a higher salary or other benefits with your boss?
Susan: I have only negotiated at the start (initial hiring) for my position. I do the research for what others in the same tier of the hierarchy are making (it's all public information so you should be able to get it fairly easily). Be willing to walk away (and ensure they know you will) if the offer is not fair or consistent with/higher than the previous incumbent if you have an equivalent level of experience. Don't get so invested in winning the job that you regret the salary you "settled for" once you are on board.
How have you been able to negotiate a great assignment/special project in your organization or past organization?
Susan: Prior to my role as the CAO, I brought forward an idea, explained to my city manager the bottom line – benefits and costs – and then what I will do to make the project successful. I indicated the type of support I would need from the manager, and beyond that I would run with it and get it done!
What advice do you have to others who are ready for such an assignment, but don't quite know how to get the assignment?
Susan: Talk with a department director that you have seen supports others and is a team player, or is someone your manager respects. Get their suggestions as to how to get that great assignment.
********************
Susan K. Thorpe was appointed County Administrator for Yuma County in February 2016. Susan has over 25 years of local government experience including serving as City Manager for two Texas cities and Assistant/Deputy City Manager for cities in Texas, California and Arizona. Susan holds a Bachelor of Arts in Political Science with a minor in Economics and a Master of Public Administration from the University of North Texas (UNT). She is active in ICMA and ACMA, and serves on the Board of Women Leading Government (California). She is a graduate of Harvard's John F. Kennedy School program for Senior Executives in State and Local Government. Susan has been an ICMA Credentialed Manager since 2004.
Pamela Antil has over 25 years of experience directly managing and advising local government agencies across the country including small and large cities such as San Jose, CA, Ann Arbor, MI and Palo Alto, CA.  Currently, she is the Assistant City Administrator for the City of Santa Barbara, CA. Ms. Antil has been recognized for her published articles and papers on a variety of topics including advancing women in local government; the future of policing in the United States; business networking; innovation and design thinking; post-merger/operational due diligence in the private sector; and use of social media by local government. An avid networker herself and early adopter of social media in government, Ms. Antil founded the Municipal Managers group on LinkedIn in 2007, which has over 12,000 members today and the League of Women in Government in 2015, supporting the advancement of women in local government.
Pam is an active member of the International City/County Management Association, Cal-ICMA, Alliance for Innovation, Municipal Management Assistants of Northern & Southern California, BJA Executive Session on Police Leadership, Emerging Local Government Leaders as well as serves as Vice President for Women Leading Government CA and President of the League of Women in Government. She is a 2016 and 2017 ELGL Top 100 Influencer in Local Government Traeger Award winner. Pam has a Bachelor's degree from Central Michigan University,  a Master of Public Administration degree from California State University, and is a graduate of the Senior Executive Institute at the University of Virginia . She is the mother of two children, Sydney and Peyton, and resides in Santa Barbara, California.